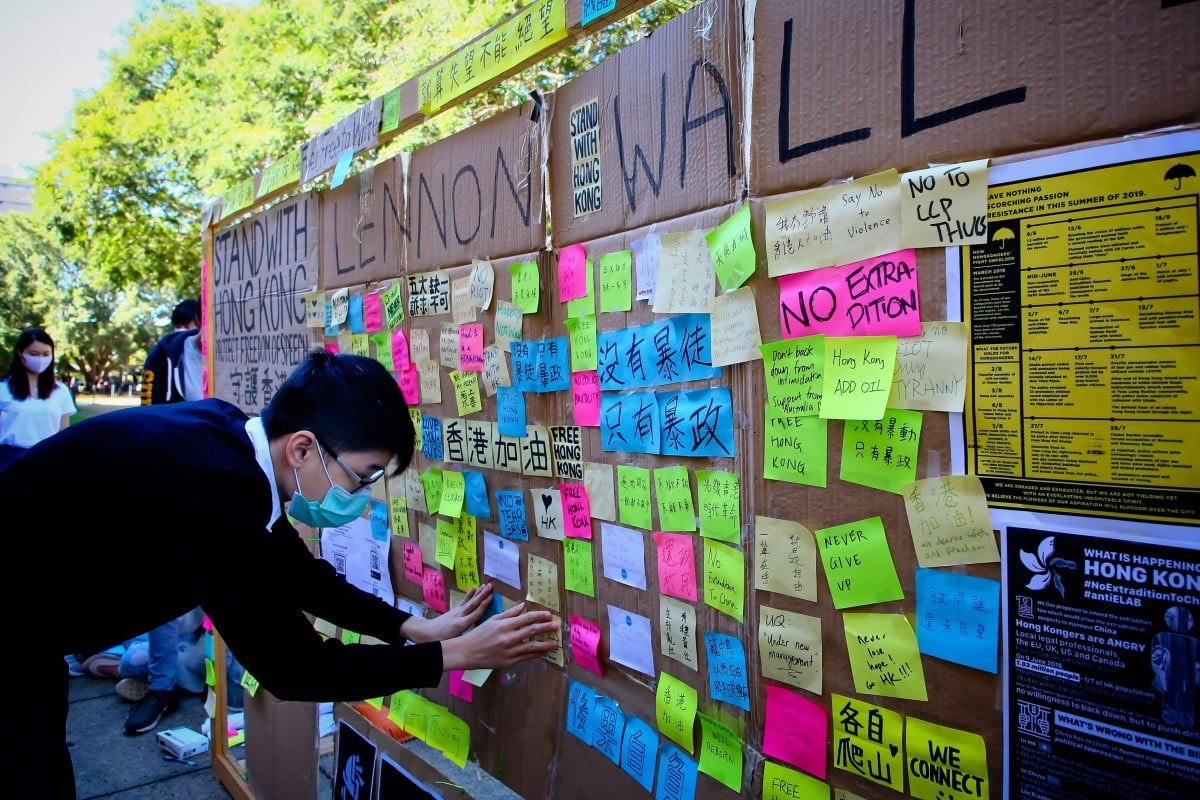 South China Morning Post, 14 November 2019 Read original news
here
.
A supporter of Hong Kong's anti-government protests posts a note on a makeshift 'Lennon Wall' at the University of Queensland in Brisbane. Photo: AFP
Australia
unveiled new guidelines for universities to guard against foreign interference on Thursday, amid growing scrutiny of the national security and human rights implications of academic partnerships and collaboration with
China.
The voluntary guidelines, which follow a months-long consultation between the tertiary sector and national security agencies, outline "practical steps" for universities to improve due diligence in research collaboration, boost cybersecurity and increase awareness of potential foreign meddling on campuses.
Among other suggestions, the guidelines encourage staff to disclose foreign affiliations and relationships, consider the ethical, security and reputational risks of international collaboration, and share analysis and evidence of cyber threats with the government and other universities.
Minister for Education Dan Tehan said the measures followed discussions with universities to "ensure they have the necessary protections for students, research data, and academic integrity".
Although they do not mention China specifically, the guidelines come after incidents of Australian academic research being implicated in alleged human rights abuses by Beijing, a cyberattack on Australian National University (ANU) widely attributed to Chinese hackers, and aggressive demonstrations by nationalist Chinese students on campuses.
"Certainly, China looms large in both the imagination of policymakers, as well as the university sector in public discussion, but I wouldn't say it's 100 per cent about China," said Adam Ni, a China researcher at Macquarie University in Sydney. "Certainly China is a major part of it, but it also applies to a range of second tier actors that are active as well."
Ni said that while some academics might resent the government's move, universities could not continue with "business as usual".
"The universities, if I can put it frankly, just don't have the expertise to do some of the due diligence that's required," Ni said. "They have to outsource it to government organisations because these issues are complicated, whether that be attribution of cyberattacks, guarding against cyberattacks or doing due diligence on organisations that are opaque and complicated."
Australia investigates foreign interference at universities as fears of Chinese influence grow
In September, University of Technology Sydney decided to cancel a joint research project with China Electronics Technology Group Corporation after Human Rights Watch found a subsidiary of the firm had developed an app used to monitor ethnic minority Uygurs in Xinjiang.
In May, ANU discovered that hackers had stolen nearly two decades of personal data in a "sophisticated" intrusion that unnamed security officials later told local media was the work of Beijing and aimed at cultivating students likely to go into high-level positions in the government and intelligence services.
Multiple campuses have been the site of tensions and physical clashes between Hongkongers and mainland Chinese students in recent months during demonstrations related to the political crisis in Hong Kong.
Amid broader concerns about Chinese influence, Australia last year passed sweeping anti-foreign interference laws that have strained relations with Beijing.
China has rejected claims of meddling in Australian democracy, with Chinese foreign ministry spokesman Geng Shuang in August blasting reports of interference as "purely illusory" and driven by ulterior motives.
Peter Jennings, executive director of the Australian Strategic Policy Institute, said the guidelines were a "welcome development".
China's tech rise poses security and human rights dilemma for Australian universities
"I think it shows after quite a few years of denial that many Australian universities realise now that they have a problem, that their dependence on fee-paying foreign students, particular fee-paying Chinese students, and the extent of their research collaboration with PRC universities has brought them to a point of some vulnerability," he said.
Deborah Terry, chair of Universities Australia, said the measures arose from an "equal partnership between universities and government" and aimed to guard against foreign interference "without damaging the openness and global engagement essential to Australia's strengths and values".
But Nathan Attrill, a PhD candidate studying Chinese politics at ANU's Crawford School in Canberra, said the government would have to "tread very carefully to get universities to implement meaningful change while not creating his [Tehan's] own undue interference problems".
"One could see less 'collaboration for collaboration's sake' as Australian universities become more wary of establishing joint programmes or research simply to say they have international connections," Attrill said.
"But the real risk is that the new guidelines become too administratively burdensome, making even positive collaboration not worth the time or effort. What is 'sensitive information', or research that is unethical or a security risk, is not always clear."
This article appeared in the South China Morning Post print edition as: Guidelines to stop China meddling in universities