The Department of Home, the second of the 7 CTA Departments, is responsible for the welfare and rehabilitation of the Tibetans in exile. There are 45 Tibetan Settlement Offices under this department. It looks after 15 agriculture-based settlements, 17 Handicraft based settlements and 13 cluster and scattered communities in India, Nepal and Bhutan.
The Department works in close cooperation with the Government of India and international organizations involved in helping Tibetans to improve their lot. Employment generation and promoting self-reliance among the Tibetan populace has been the chief task of the Department since it came into being. People at the grassroots level have the right to either elect their own settlement/welfare officers or request appointees from the Home Department, CTA. Thus far, most of the settlements have decided in favour of appointees from the Department. However, the CTA is making concerted efforts to encourage people to elect their own grassroots level heads, as this is seen to be an essential milestone on the way to Tibetan political maturity.
Introduction
About Us
The Home Department is also working on a detailed plan to streamline the cooperative societies to make them completely self-reliant. Responsible for buying inputs and marketing the outputs of respective settlements, the cooperatives presently depend on the Home Department for managerial personnel and financial assistance whenever they face the prospect of bankruptcy.
In tandem with other projects, the department plans to replace the existing chemical-oriented farming practice with organic and natural farming.
Our Vision
We envision sustainable, democratic, communities in exile, engaged in dynamic, modern economies and practicing organic, natural farming, in which we can live respecting our common cultural and religious heritage while unifying in preparation for an ultimate return to democratic Tibet.
Objectives
To create self-sufficient and vibrant communities so as to preserve and practice our distinctive culture ethos and values.
To provide rehabilitation assistance to the displaced Tibetan refugees and undertake sponsorship programmes for the old, infirm and destitute.
To improve the physical, social and economic infrastructure of the settlements which are often rudimentary or dilapidated conditions.
To develop the agricultural and animal husbandry sectors in the settlements.
To promote micro enterprises through cooperative and individual initiatives in the settlements.
To train settlers in vocational and technical skills for self employment.
To provide emergency relief measures to victims of natural disasters such as drought, floods, cyclone, snow storms etc.
Former Kalons
Former Kalons
Thupten Yonten Phala (September 21, 1960 – August 01, 1963)
Sonam Wangdue Kyemey [Deputy kalon] (August 01, 1963 – February 1964)
Wangdue Dorjee (February 20, 1964 – January 1983)
Tashi Wangdi (January 1983 – January 1983)
Thupten Namgyal Juchen [Kalon Tripa] (Janaury 1985 – 1990)
Kelsang Yeshi [Kalon Tripa] (May 17, 1990 – June 28, 1991)
Tenzin Namgyal Tethong (August 1991 – January 1993)
Rinchen Khando Choegyal (August 1993 – August 1993)
Sonam Topgyal [Kalon Tripa] (August 1993 – April 1997)
Tashi Wangdi (February 1994 – April 1997)
Yangkee Samkhar (April 1997 – August 1999)
Tashi Wangdi (August 1999 – September 1999)
Tempa Tsering (September 23, 1999 – August 4, 2001)
Prof Samdhong Lobsang Tenzin [Kalon Tripa] (August 4, 2001 – September 19, 2001)
Lobsang Nyima (September 20, 2001 – March 4, 2005)
Prof Samdhong Lobsang Tenzin [Kalon Tripa] (March 5, 2005 – September 2006)
Prof Samdhong Lobsang Tenzin [Kalon Tripa] (September 2006 – August 2011)
Dr Lobsang Sangay [Kalon Tripa] (August 2011 – September 2011)
Dolma Gyari (September 2011 – 26 May 2016)

Sonam Topgyal Khorlatsang (1 June 2016 – Present)
Former Secretaries
Former Secretaries
Thupten Sangye
Sonam Paljor (August 1, 1963 – July 1966)
Tsering Paljor (April 30, 1964 – June 30, 1968)
Gyaltsen Choeden (1969 – November 30, 1975)
Kunchok Samten (December 01, 1975 – December 31, 1977)
Tashi Topgyal (November 01, 1978 – December 01, 1982)
Donyak Tenzin (December 09, 1982 – August 01, 1990)
Tashi Phuntsok (August 04, 1990 – June 10, 1994)
Jampa Choejor (July 15, 1994 – December 25, 1996)
Tsering Wangyal (December 18, 1996 – October 18, 1999)
Ngodup Tsering (October 15, 1999 – April 21, 2000)
Jigme Jungney (April 21, 2000 – April 11, 2002)
Tsering Dhondup (April 12, 2002 – October 04, 2007)
Ngodup Dorjee (October 05, 2007 – March 1, 2012)

Sonam Topgyal Khorlatsang, (March 1, 2012 – 31 May 2016)

Chhimey Rigzen (25 July 2016 – 31 November 2018)
Wangdu Tsering Pesur (1 December 2018 -7 October 2019)
Tsewang Dolma Shosur (16 October 2019 to Present)
List of Tibetan Settlements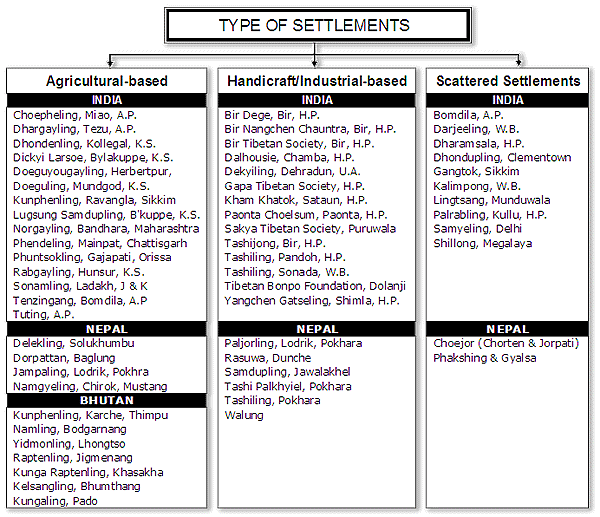 Programs
Agricultural Development
Many of the first generation Tibetan exiles came from an agrarian life in Tibet. It was second nature for them to take up agriculture in their new homes, but they had to adapt their old methods – suitable to the high, arid climate of Tibet – to new environs in low, hot tropical parts of India. With aid from international agencies like the Swiss Technical Corporation, we introduced conventional agriculture and helped farmers grow modern varieties of maize and rice. We worked with the co-operative societies in each settlement to purchase tractors and improved varieties of seed and hybrid dairy animals. We helped plant orchards where viable, so the farmers can grow economically valuable agricultural crops. We even helped establish grain-processing centers to increase the value of our agricultural exports. We will continue all this work.
Today, we face a new problem. Much of the land, which once produced well, is now infertile, over-stressed, devoid of organic matter, and requires ever-increasing inputs just to maintain stable output. We see conventional agricultural methods worsen the effects of drought and may not be sustainable for our small, family-run farms. Our new agriculture development programs aim to introduce the best organic and natural farming concepts with an emphasis on soil and water conservation and developing the natural fertility of the land. This dovetails well with our on-going efforts to improve efficiency, provide irrigation, and increase the value of agriculture products through basic processing. At the same time, this approach returns us to our traditional culture, combining the way we sustainably managed our lands for generations back in Tibet with modern understanding and knowledge.Agriculture is risky. Farmers must always navigate the unpredictable challenges of nature: drought, flood, heat waves, and pests. Diversifying crops, using drought management strategies, and irrigation projects help mitigate the risks. When particularly difficult conditions strike, we often help the local co-operative societies and farmers with emergency funds and low-interest, long-term loans.
Some of the activities that we do to nurture productive farms include:
•    Supporting the co-operatives that organize much of the agricultural purchasing, production, and marketing.
•    Enlightening about and encouraging the practice of organic and natural farming
•    Purchasing agricultural machinery
•    Planting trees for fruit and nature
•    Conservation and development of soil and water resources
•    Construct processing and storage facilities to increase the crop sale value
•    Animal husbandry
•    Greenhouse construction (mainly in Ladakh)
Cooperative Section
A scientific and technological revolution in the late 18th century gave rise to the development of industries in many western countries. At the same time, a system of capitalist economy was born to escalate the exploitation of common people, particularly the industrial workers. As capitalist abuse reached its peak, a counter-culture of the communist politico-economic system became widespread. Seeking to challenge the capitalist establishment by means of class struggle and violence, the communists only succeeded in unleashing a new wave of exploitation. The majority of the world population now found themselves polarized into two mutually exclusive camps. Peace and stability receded as a distant memory. It was only a matter of time before the world would fight the First and Second World Wars. These two wars were but the inevitable consequence of the advancement of science and technology.
When the Second World War ended, the major powers realigned themselves yet again into two opposing blocs and set in motion a new phase of confrontation. The Cold War dragged on remorselessly for decades, with awesome consequences. Even today humanity bears the scars of that insidious strife.
Apparently, the power blocs and the Cold War are past history now. But violence is not. The world today is faced with yet another predicament, that of terrorist violence. The root of this problem can be found in the general system of economic exploitation, particularly in the expansion of globalization and consumerism.
All through this global historical development, Tibet pursued a system of industrial, agricultural and nomadic practices, which were not only non-violent but also self-sustaining and self-reliant. It was a system that put very little strain on the environment and natural resources. Tibetan villages then epitomized Mahatma Gandhi's vision of cooperation and mutual help. By and large, the old Tibet was a happy and contented society.
With the occupation of Tibet by China, every aspect of the Tibetan culture and tradition has suffered destruction. China today uses Tibet as a guinea pig for experimenting with the new economic trends of consumerism and globalization, subjecting the Tibetan people to exploitation.
However, if China is engaged in wiping out the Tibetan tradition of non-violence, cooperation and mutual help, His Holiness the Dalai Lama has established a number of Tibetan settlements in exile to provide livelihood and to preserve our religion and culture. His ultimate vision is to develop a way of life that dovetails our tradition with the positive aspects of modernity, one that will serve as the exile Tibetans' gift to the people in Tibet, a gift that will fan the dying ember of tradition in Tibet.
The root cause of Tibet's tragedy can be found in the international struggle between the capitalist and communists. In this context, it must be stated that the success of our goal of self-rule will depend on the kind of economic system that we follow. For many years now, people with wisdom and foresight have realized the poverty of both capitalism and communism in meeting human aspirations. Therefore, they developed a model of Middle Path economic system, drawing on the philosophy of cooperation. To Mahatma Gandhi cooperation is the foundation of a non-violent economic system.
Gandhi's vision and His Holiness the Dalai Lama's teaching inspired the development of cooperative societies in almost every Tibetan settlement. Needless to say that the societies were built within the framework of the laws of host countries. To drive home the seriousness of our cooperative initiatives, the Charter of the Tibetans in Exile has included a specific Article on this issue.
True, the Government of India and state governments allow cooperative societies the benefit of tax exemption and low-interest loans. However, our aim is not to cash in on such legal and economic advantages. Rather, our goal is to evolve an economic system that is free from competition and violence.
The aims and objectives of the cooperative societies in Tibetan settlements are:
His Holiness the Dalai Lama has proposed to make future Tibet a zone of ahimsa and sanctuary of environment protection. It follows that the economic system of future Tibet should be based on non-violent and environment-friendly principles. This is a Middle Path system, one that avoids the extremes of communism and capitalism and successfully challenges the scourge of consumerism and globalization in favour of self-reliant and sustainable livelihood. This involves the development of a system of cooperation and mutual help. To pave the way for this, we must reform and streamline the working of cooperative societies so that our experience serves as inputs to the reconstruction of Tibet when we are united with our brothers and sisters there.
For this, we need to organize workshops and other educational programs on the goals and philosophy of cooperatives. We need to build conviction among the people that all the activities of cooperative societies should be aimed at serving the interests of shareholders. This, in turn, should lead to greater participation by shareholders in the management and other activities of cooperative societies
As Article 93 of the Charter stipulates, products and revenues of cooperative societies must be used to benefit the shareholders. The societies' revenue-generation activities must abide by the laws of host countries. Corrupt and immoral practices should be avoided at all costs.
A system will be formulated to ensure that the cooperative societies clear all the outstanding dues within a definite period of time; clear their accounts annually, avoid bad debts, and provide convincing explanations, during the given financial year, to the questions of auditors.
Efforts will be made to reform the bylaws of the cooperative societies within a definite period of time. The reform will be aimed at enabling the shareholders to elect the cooperative president, secretary, and other officer bearers, and discontinue the practice of making such appointments by the Central Tibetan Administration, Dharamsala.
Knowledge of cooperative bylaws and the host countries' laws on cooperative societies will be made a condition for appointing office-bearers. We will look into the possibility of formulating a new body of service rules and regulations, including recruitment rules, to cover all the cooperative societies. As well as ensuring a standard body of rules and regulations, it will also help to safeguard the interest of cooperative employees.
Efforts will be made to establish a Federation of Cooperative Societies to provide a forum for experience sharing, and more particularly, to help the societies in remote areas to market their products. Apart from marketing, the federation will facilitate the procurements of goods from outside for sale in the settlements.
Welfare Division
Welfare Division is categorized into three subsections:
---
1) Poverty Alleviation
Background:
Despite great progress and development of the Tibetan refugees (regarded as one of the most successful stories of refugees throughout the world) owing to the well-established organisation and rehabilitation, poverty still lingers on. Prior to the first ever poverty survey in 1994, it is assumed that poverty is a generally prevalent phenomenon in the Tibetan community and addressed as such. The poverty review and survey undertaken in 2002, identified the poor into four categories and recommended suitable measures to address each.
The categories are:
1. Poor aged and frail,
2. Poverty owing to Children,
3. Poverty owing to sickness and frailty
4. Poverty owing to lack of capital.
5. According to the latest review conducted on the 'Poverty Alleviation', the Kashag has issued guidelines to withdraw the last category i.e. Poverty owing to lack of capital with effect from 2nd April 2008.
The criteria for poverty was mainly based on the 'less than a dollar per capita per day' standard, which identified about 2,100 individuals and is still increasing, under the poor aged and frail category which forms between the age group of 65 years and above (60 years in case of aged persons suffering from sickness under similar circumstance).
Traditionally, emotionally, and rationally, it becomes a must that we look after the welfare of the aged, many of whom had to suffer the brutalities, and suffer trauma of exile in an alien world, devoid of skills and host country language. Many of them had actually sacrificed their near and dear ones and gambled their life to fight for Tibet in their prime without the benefit of security in life. It becomes our duty and pleasure to help them when in need of help.
Objective: To support the poor and needy elders by providing monthly stipend and to look after the welfare of 14 Old Peoples Home under our care.
Measures taken: Adopt a Granny or Grandad Program
Central Tibetan Relief Committee, a relief wing under the Department of Home formed to look after the welfare and socio-economic development of Tibetan refugees in exile then started a sponsorship program "Adopt a granny or granddad" in order to achieve a part of its objectives.
Our welfare section undertakes this very program to help these elderly Tibetans who resisted the initial invasion of their homeland: these are the exiles that forged a life in a foreign land, preserving the Tibetan cultural heritage. As refugees, the exile Tibetans do not have access to conventional programs like pension funds or social security and their traditional support structure, the extended family, is often too stressed to help. This adoption program provides elderly poor and needy Tibetans with the means to live with dignity and respect.
Under this Program, we are looking after the welfare of poor and needy Tibetan elders scattered over 53 different settlements in India, Nepal and Bhutan by providing monthly sponsorship money to meet their basic requirements. As far as possible, we find sponsors for each elder who adopt them either as their granny or grand dad.
As far as possible, they are given stipends and encouraged to live with their families for they have a wealth of knowledge to be passed on to the younger generations. Many of them, who are single, are catered into Old Peoples Home (around 14 Old Peoples Home, scattered in India and Nepal, with direct CTRC control). We also look after these Old Peoples Home and help them in meeting their running expenses by again finding sponsor for the elders or seeking donations for the OPH.
Our 'Adopt a Granny or Granddad' sponsorship program has proved very successful in helping thousands of elderly Tibetans to lead a decent life with dignity and respect at a stage when there is no source of income for them to carry on their livelihood due to lack of pension funds or social security. At present, there are around 2100 beneficiaries under this program excluding elders living at OPH and ex army personnel. This program would not have been successful without the philanthropic support of various donors and therefore, CTRC would very much like to convey our heartfelt thanks to all the kind donors for their generous support towards our community
---
2) Old People's Home and Sponsorship
---
3) Youth Empowerment Support (YES) was previously known as PADME "Promotional Agency for Development of Micro Enterprises". It was initially started with an objective to extend a micro-credit loan fund for youths under the Office of Planning Commission in 1977. In view of an administrative reform, the responsibility for managing the loan fund was transferred to the Department of Home on April 7 2003. Later on, the department developed it into a Youth Empowerment Support Program (YES) as it is known these days.
The overall goal (vision) of the program is to make Tibetan youths productive and independent with self-employed in various trade and skills. However, its specific objectives is to promote gainful and self-employment to school drop-outs and UN-employed youths in the exile communities with following strategies:
▪    Empower Tibetan youths through appropriate career guidance and promotion and support of self managed enterprises
▪    Motivate the youth to have a positive outlook and engage in diverse economic activities
▪    Impart relevant skill training
▪    Provide soft start-up loans to set up micro-enterprises
Every year Department of Home -OR- the Centrel Tibetan Relief Committee (CTRC) provides Skill Training Opportunities to about 100-10 Unemployed Tibetan youths mostly from India. Youths from Nepal and Sikkim areas could not be incorporated in this project due to some unavoidable difficulties involved.
All the trainees are provided free residential facilities at Institute for Small Trade Learning, Neelamangala in Bangaluru, South India. Those interested in doing the training should register at their respective Settlement Office before the deadline set by them. The settlement office will then collect all the applicant's forms and must be sent to Department of Home by the deadline specified. Forms received thereafter will not be entertained.
Employment generating courses including diploma program in hair styling, medical transcription, certificate in retail execution (salesman), combined fast track in beauty therapy, carpentry and tailoring, would be offered.
Besides beauty therapy, carpentry, tailoring, and medical transcription today has become a well-paid and highly demanded job. A beginner starts with a monthly income of around Rs. 8000/- and as the speed and skill improves, the earnings will also get increased accordingly.
Technological oriented courses, such as diploma in computer engineering, certificate in mobile phone technology, diploma in electrical engineering, certificate in photography, certificate in multi-media, diploma in hardware and network engineering and Microsoft certified in system engineering, would also be provided at different Institutions around Bangalore.
The trainees can get a plethora of employment scopes, including setting up mechanical shops for solving electrical and mechanical problems in the settlements, render computer services, photography, web-design and media publishing, and open up one's own beauty parlours.
Carpentry, Tailoring, Beautician and Hairdressing courses are being offered at the ISTL Nelamangla itself. Whereas, Computer related courses and other technical courses are offered at different Institutions around Bangalore city.
CATHOLIC RELIEF SERVICE (CRS) *
Catholic Relief Services was founded in 1943 by the Catholic Bishops of the United States of America to assist the poor and disadvantaged outside the country. It is administered by a Board of Bishops and lay people, and is staffed by men and women committed to the Catholic Church's apostolate of helping those in need. It maintains strict standards of efficiency and accountability. Donation of US people to poor and needy in cash are being used to purchase food commodities by USAID (United States Agency for International Development). The food commodities that we received are requisitioned by CRS.
CRS came to India through Indo – US bilateral agreement in the year 1951 with opening of four zonal offices (Lucknow, Kolkata, Mumbai and Hyderabad). The regional office has been stationed at New Delhi. CRS works in partnership with other developmental organization which are referred to as Counterpart Organization (CPO). CPO in turn works with several other NGO's which are referred to as Operating Partners Organization (OPO). Before entering into partnership, all the parties need to reach an agreement. The agreement between CRS and CPO is called CRS-CPO agreement and the agreement between CPO and OPO is called CPO-OPO agreement.
His Holiness the Dalai Lama's Central Tibetan Relief Committee (CTRC) is one of the CPO who has entered into an agreement with CRS and has about 50 OPO's presently operating under it. These OPO's include schools, monasteries, nunneries, settlements, OPH's (old people's home) and others. The programs (Title-II) covered under the OPO's are Nursery and Creche (NC), School Feeding (SF), Residential Institution (RI/BP) and Individual Health Care (IHC). The total number of beneficiaries for all the above – mentioned programs for the fiscal year 2009 is 13,032.
* This programs was CLOSED in August 2011
Announcements
Kalon's Message
Following China's occupation of tibet, over 80,000 Tibetans was able to safely follow His Holiness to exile in 1959. The most important task of His Holiness the Dalai Lama and the Government in exile was to provide relief to thousands of traumatized and dislocated Tibetan refugees. The most worthy leadership of His holiness believed that in order to preserve and maintain our distinctive Tibetan socio-cultural ethos and values, the small number of the Tibetans should live, as far as possible, in homogenous communities with the larger host communities. And with this consideration, with the kind assistance and cooperation of the Governments of india, Nepal and Bhutan, fifty eight Tibetan Refugee Settlements were successfully established. This phase of rehabilitation and reconstruction would not have been possible, also without the strong determination of the first generation of Tibetan refugees and the timely assistance extended by various International and Governmental aid. We remain grateful to all of them and to our sympathetic friends, who continue to provide help and assistance to us.Though the larger number of the Tibetan diasporas live in the settlements, there are also many living outside the settlements including the recently arrived refugees, for whom we are equally responsible.His Holiness the Dalai Lama has often says that we must hope for the best and prepare for the worst. This has been our guiding principle in seeking to make our settlements and the community as viable and sustainable as possible,I am hopeful that the unified CTA website will assist us in our initiatives and help us serve our people better.Tashi Delek and greetings from the Home Department.
Sonam Topgyal Khorlatsang, Kalon for Department of Home
Sakhang Dikshi Kyarship
Click here for the announcement on  Sakhang Dikshi Kyarship (Review of Housing Rules) in Tibetan Text. This announcement to the settlement officers was sent by the newly formed High Level Committee for the review of Housing Rules.