Lo-sar1 means New Year in Tibetan. It is the first day of the first month of the Tibetan lunar calendar. This year's Tibetan Losar, Iron-mouse year, falls on 24 February. Losar celebration is one the most festive periods of the year observed with a lot of religious, cultural and merrymaking events for a week or two. Losar celebration is the time when one could witness and taste the best of the Tibetan culture and delicacies. Men, women, and children are in the best of their traditional attires. Colourful prayer flags flutter from the top of the houses, monasteries and the hills around. Unfortunately, Tibetans in Tibet are not allowed to observe it fully, because China sees a large gathering of Tibetans and celebration of Tibetan identity and its rich culture as a threat to the communist regime.
Two days prior to the Losar, i.e. 29th and 30th day of the last month of the year, also form an important prelude to Losar celebration. 29th day is said to be Nyishu-gu, where the family members take Gu-thug, a porridge or noodle with nine different ingredients, together in the evening. A Glud [a proxy in effigy form made from dough] is sent away with all the obstacles and bad lucks of the family.  30th is Nam-gang; preparation and decoration of the altar and the house should be complete by Nam-gang night. Men wash clean on 29th and women on 30th, signifying entry into the New Year fresh and clean.
Losar is celebrated for different lengths of time in tandem with the local tradition, but the first three days of Losar are considered very important. The first day is said to be Lama-Losar, people visit monasteries, pay respect to the Lamas and receive their blessings. The first day is usually spent with family members only. The second day is said to be Gyalpo-Losar. Gyalpo means king representing authority, official public celebrations are done on this day. The third day is known as Chokyong-Losar. Chokyong means the guardian deities, on this day prayer flags, are hoisted on the hills and around the houses. Guardian deities are propitiated and supplication prayers are read. 
During Losar, Chod-shom, the holy altars in every Tibetan home are bountifully decorated with offerings and auspicious items. It is a Tibetan way of saying thanks to nature, local gods [Tib: Yul lha] and protectors [Tib: gShi bdag] for the good and positive things they had in the passing year, and to seek blessing for the New Year.  Here we shall discuss what is commonly found on the sacred altar [Tib: mChod gShom] during the Losar celebration. They are Derkha, Yon-chab, Lo-puth, Chang-phuth,  Lug-go, Bo and Chemar.
Derkha is a pile of Khases, Tibetan fried cookies, presented at the altar with Bongbu-achok as the main item along with other khases and eatables. Der means plate, and Kha means mouth. So, it means a big plate in which a lot of eatables are presented. Bongbu-achok literally means donkey's ear. Why it is called donkey's ear, nothing specific could be found; it may be because of its physical shape. Usually, it is about one-feet in length and 5 inches wide, it comes with an average height of 3 to 4 inches. As it is soaked and prepared in hot boiling oil, it is sturdy and hard.
This Bongbu-achok is the main pillars and structures of the Derkha. Number of Bongbu-achok stacked up for Derkha could be eight, ten, twelve, and so on in even number. It can also assume odd numbers when the base is made of three Bongbu-achoks. Derkha is composed of six different khases: Achok, Nyashag, Tashi-mugdhung, Kongche, Bolug-khorlo, and Pinpin-dhogdhog. All these are khase of different physical forms. Construction of Derkha is done to assume the shape of Tashi-Tagye (the eight auspicious sign) in union. On the piles of Bongbu-achok are placed the following Khases in sequences: first, a pair of Nyashag khase, a pair of Tashi-mugdhung, a pair of Kongche khase, a Bolug-khorlo and Pinpin-dhogdhog at the top.
While the Bongbu-achok of official and monastic Derkhas are mostly stacked up with its mouth facing downward, private homes have the Derkhas with its mouth facing up. It is said that the private Derkhas are faced up so that various delicacies and sweats could be put inside the mouth of Bongbu-achoks, while this is not done in official or formal Derkhas.

It is also said that in order to have harmony in society, authorities and the public should have good communication. To indicate good communication and proper listening, official Derkhas have the face down; and public Derkhas have the face-up, forming proper union facing each other.
There is another theory as to why Bongbu-achoks at Derkha are facing down. In Tibetan society, usually, all the utensils, bowls, cups and containers are kept face down. If you keep an empty container facing up after washing it, you will be admonished to keep it facing down. This is because Tibet is a land of deities, spirits, and ghosts. Deities are propitiated often to subdue the malignant ghostly spirits harming human beings. When the deities pursue a malignant ghost, the latter often try to hide inside the utensils and containers. As the deities are sacred and clean, they can't go inside the utensils and containers used by human beings. So, the ghost escapes from being caught by the deities. Therefore, all empty utensils and containers in Tibet are kept facing down.
Yon-chab means offerings made in the form of water, it has seven bowls signifying the seven offerings to the Buddhas. They are Chod-yon, offerings for the teaching; Zhab-sil, water to wash the feet; Metok, flowers for beautification; Dugpo, incense to purify the atmosphere; Dri-chab, scented water; and Zhal-se, food offerings. Lo-puth is the young green shoots of wheat signifying good harvest for the year.  Chang-puth: Chang means Tibetan barley beer, puth means the first. So, the first bowl of the Chang made for the New Year is offered at the altar to thank the deities. Lug-go is a sheep's head made of dough. Sheep are considered fortune keeper of the family, and it is placed at the altar to woo fortune and health.  Bo is a wooden container for Chemar, it has two pockets. The right-hand side will have Dro, wheat grains, and the left-hand side shall have Tsampa, roasted barley flour. Both are put in a cone shape with a Tsedro, a decorative wood, each. Chemar is offered to the visitors and auspicious greetings and remarks are exchanged.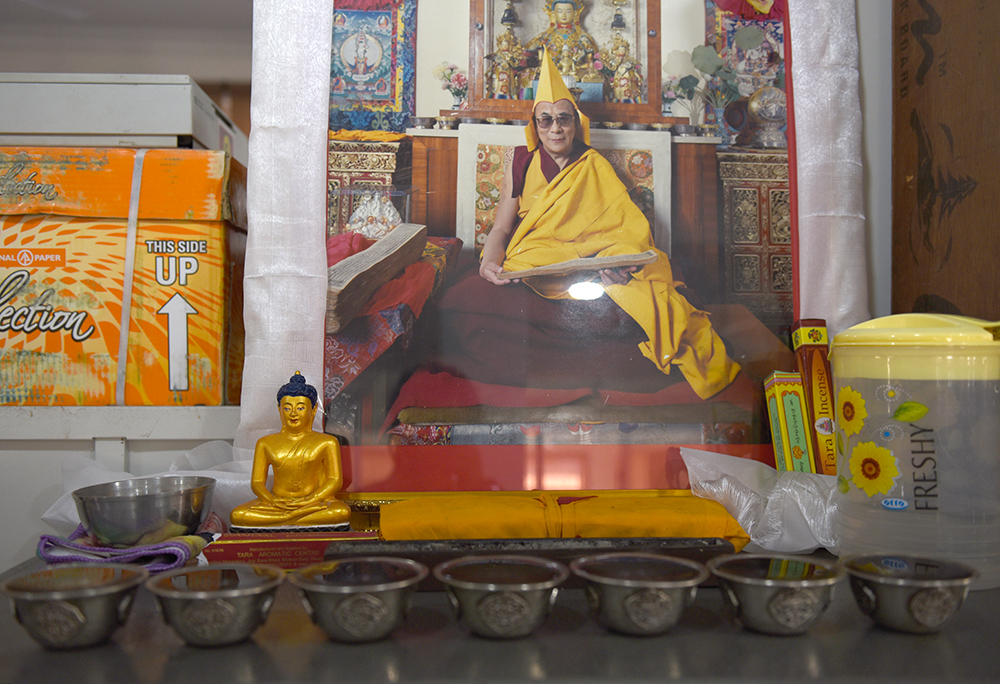 Above are some of the main items and paraphernalia that come along with the celebration of Tibetan Losar. But what is noted here may not accounts for 10 percent of actual traditional Tibetan Losar. Tibet has a rich tradition of operas, dances, and songs. It is said that whole nights are spent dancing, singing, and merry-making for several days during Losar.
Sadly, Tibet has not seen these gaieties and happy cheerful days since the Chinese occupation of Tibet. But Tibetans in and outside Tibet believe that one day the sun of happiness will shine over Tibet, and they shall be able to live freely as they have lived once.
* Written by Tsewang Gyalpo Arya and photograph by Tenzin Phende of Department of Information and International Relations (DIIR), Dharamsala. Disclaimer: Views expressed are the author's own.
____________________________
Reference:
Bod kyi dus chen, Festival of Tibet, compiled and edited by Kalsang Khedup and Chung Tsering, Dept. of Education, CTA

Bod-rgya tsigs-mdzod chen-mo, Tibet

Festival of Tibet by Tsepak Ringzin, Library of Tibetan Works & Archives, 1993

A legend of Amche Ra-ru by T. G. Arya