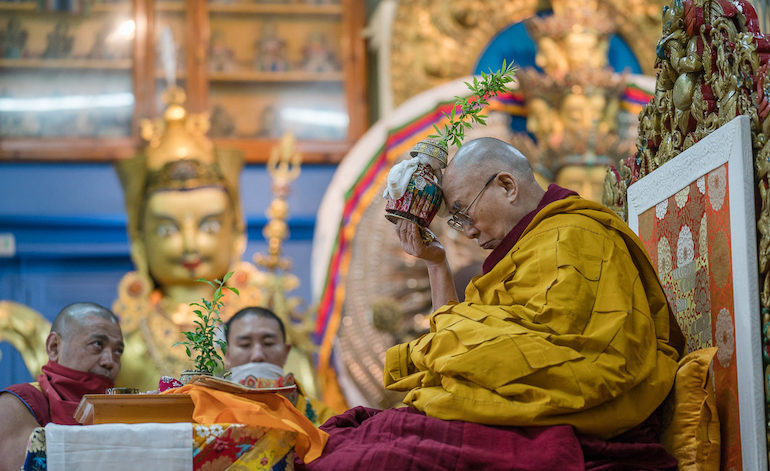 His Holiness will give a short teaching on the Jataka Tales on 19 February 2019 followed by teaching on Bhavaviveka's Essence of the Middle Way (Madhyamakahrdayakarika) (uma nyingpo) from 20-24, February 2019 at the Main Tibetan Temple at Mcleod Ganj.
The registration for obtaining Teaching Pass to attend teachings of His Holiness the Dalai Lama will be made available online at www.dalailamateaching.com. The Initiative is taken to expedite the process of obtaining Teaching Pass.
Due to security reasons, all devotees attending the teaching are requested to avoid bringing all kinds of electronics, cameras, mobile phones, knives, cigarettes, lighters, match-boxes and any other unnecessary items to the teaching venue. You may be allowed to bring with your relevant Textbooks, Cushion and a Mug for tea. It is also advised to wear decent and proper dress while attending the teachings.
Those who are practitioners of Dorje Shugden or Dholgyal are strictly advised not to attend the teaching as this would only be a cause of corrupting the bond between the master and the disciple.
Teaching Pass will be issued at Security Branch Office, Mcleod Ganj after producing your online registration form along with any of following documents; Passport/Aadhaar Card/Voter ID/Green Book/RC. Those who have been issued Teaching Pass of previous teachings need not register again. A new teaching pass will be issued upon producing the old one.
However, those who do not wish to register online may visit in person to obtain Teaching Pass manually.
Registration counter will be open from 12 February 2019 onwards.
For any query, please contact: Email: [email protected]
Tel: +91-1892-221560
Department of Security, CTA
19 January 2019