DHARAMSHALA: Human Rights Watch today called on China to end forced relocation of Tibetans to "New Socialist Villages", expressing concern that this policy, unprecedented in the post-Mao era, has left millions of resettled Tibetans' livelihood and their cultural identity at risk.
The Chinese government has forcibly evicted over two million Tibetan farmers and herders from their traditional habitation to concrete houses under its plans to "Build a New Socialist Countryside" in Tibetan areas since 2006, the Human Rights Watch said.
Human Right Watch's new 115-page report, "'They Say We Should Be Grateful': Mass Rehousing and Relocation in Tibetan Areas of China", documents extensive rights violations ranging from the absence of consultation to the failure to provide adequate compensation, both of which are required under international law for evictions to be legitimate.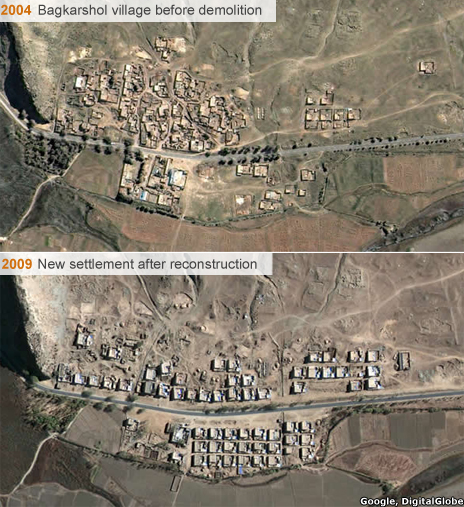 The report also addresses defects in the quality of the houses provided, absence of remedies for arbitrary decisions, failures to restore livelihoods, as well as a disregard for autonomy rights nominally guaranteed by Chinese law in Tibetan areas.
Tibetans coming from both farming and nomadic herding communities, interviewed by Human Rights Watch between 2005 and 2012, say that large numbers of people relocated or rehoused did not do so voluntarily, and that they were never consulted or offered alternatives. They say that many face financial difficulties as a result of having to move, reduce their herds, or demolish and reconstruct their houses. They claim that new settlements are sometimes inferior to the ones they previously inhabited, and that many pledges made to them by local officials to induce them to move have never materialised, the report said.
A villager from Gyamda (Jiangda), in Tibet Autonomous Region in July 2012, said: "People in the village are desperate about abandoning their homes and having to resettle. They don't have any other skills than farming, and won't have any herds or land worth speaking of anymore. How is the next generation going to survive as Tibetans?"
"In the new settlement we have to buy everything, yet we don't have an income. You cannot live here without cash. The 500 yuan the government gives us [per month] is not even enough to cover the electricity and water bills. And then you have to buy your own food," said a resettled nomad from Yushu prefecture (incorporated into China's Qinghai province), in October 2009.
The Chinese government has announced plans to further rehouse and relocate more than 900,000 people in Tibet Autonomous Region by the end of 2014 and an additional 113,000 nomads into sedentary dwellers in eastern Tibet by the end of 2013, the report said.
 "Tibetans have no say in the design of policies that are radically altering their way of life, and – in an already highly repressive context – no ways to challenge them," said Sophie Richardson, China director of Human Rights Watch.
"Forging ahead with mass relocation and rehousing programs in a broadly repressive environment will only fuel tensions and widen the rift between Tibetans and the Chinese state," Richardson said.
Human Rights Watch called on the Chinese government to halt all projects involving mass relocation and rehousing, and allow an independent assessment of the design and impact on these policies, including by agreeing to long-standing requests by various United Nations Human Rights Council Special Rapporteurs to visit.