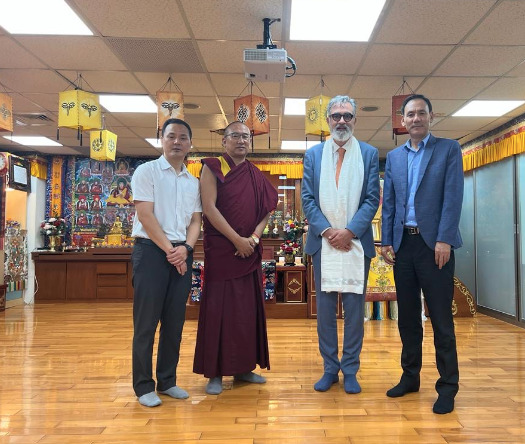 Taiwan: Deputy Salvador Caro, president of Friends of Tibet in Mexico visited the Office of Tibet in Taiwan on 4 September. Deputy Salvador is visiting Taiwan at the invitation of the Government of Taiwan.
Representative Bawa Kelsang Gyaaltsen led the staff of the office extended a warm welcome reception to the visiting delegate. Deputy Salvador was apprised of the key roles of the office and discussed wide-ranging topics concerning the Tibet cause and the prevailing situation in Tibet such as the colonial boarding schools run by the Chinese government to exterminate Tibetan identity. Deputy Salvador assured continuous support in advocating the Tibet struggle.
Following their interaction, Deputy Salvador was given a tour of the office. He was introduced to religious activities undertaken by the office under the guidance of  Buddhist philosophy teacher Tenzin Namdol Rinpoche. To honour the visit of Deputy Salvador, the office hosted a welcome banquet during which, more subjects were discussed in detail.
-Reported by OOT, Taiwan