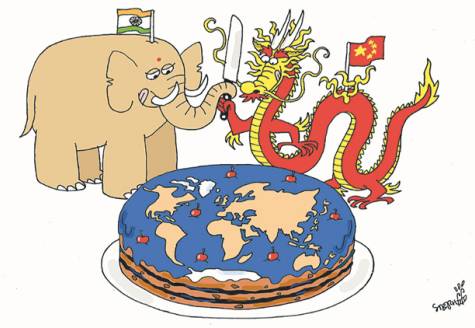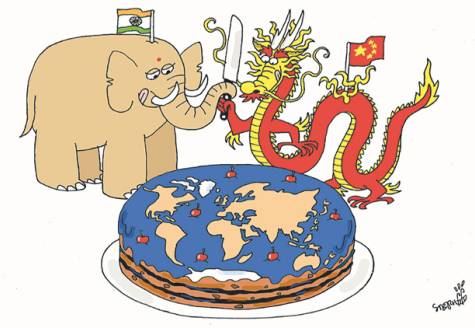 by Jamphel Shonu*
Just as the 19th and 20th century was labeled the British imperial and American century respectively, analysts are increasingly touting the 21st century as the Asian century. And rightly so as the 21st century is experiencing a massive power shift towards Asia.
But the Asian century is not without its share of complexities. Asia is a continent and is comprised (among others) of two large, competing, and growing powers – India and China – in addition to the United States, hitherto holding the mantle of undisputed power over Asia. All three want to assert their influence and transform the century into their own power century. Prominent among them is China, who wants to transform the Asian century into a Chinese century.
Since China's opening its frontiers and ushering in reform in the late 1970s, China has transformed itself into a major socio-economic power. In a span of just a few decades, China has lifted more people out of poverty than any other nation in history and skyrocketed itself into one of the major world players. China is currently the second largest economy in the world after the United States surpassing Japan, and harbors global ambitions to be the number one economy in the world. Therefore it is not surprising that China harbors a paramount goal to be at both the front and center of establishing an Asian hegemony.
However, China's ambition in establishing Asian hegemony is an uphill challenge for China, as the 21st century is witnessing a surge in nationalism and a zealous defense of sovereignty based on the consolidation of national identities. Another factor hindering China's goal of Asian dominance is India's regional aspirations. China's confidence and India's aspirations are increasingly coming face to face as evidenced by the Doklam standoff, where India's tough stand surprised China.
It is no secret that India under Prime Minister Narender Modi is pushing for a powerful India story. Since taking helm of affairs in 2014 with a decisive victory, the prime minister has visited almost all of the Asian countries in an effort to redefine its 'look east policy' set in motion by former Prime Minister late PV Narsimha Rao in the early 90s into an 'act east policy'.
PM Modi has reaffirmed India's commitment to take on a larger role in the Asia pacific. He has effectively signaled his intention to break the Chinese stranglehold in the Asian imagination of its future with a more resolute foreign policy and outlined India's rightful place as a major Asian power.
While in the US, the traditional super power in the Asia pacific, there has also been a broader shift in sentiment toward China. President Trump designated China as a strategic rival in his first State of the Union address. He also spoke about flexing the United States' economic muscle in East Asia by introducing a web of new-generation bilateral trade deals to contain China's challenge.
There are also renewed talks of establishing the quadrilateral initiative aka 'Quad' to stave off Chinese influence in the Asia pacific. Senior officials from the United States, Japan, India, and Australia have met in Manila on the sidelines of the Association of Southeast Asian Nations and East Asia Summits in November last year to discuss regional and global cooperation.
The initiative reignited the discussions on the old idea, first championed by Japanese Prime Minister Shinzo Abe during his first one-year term as Prime Minister from 2006 to 2007. The meeting was primarily the result of renewed interest in Tokyo and reciprocal interest in New Delhi, Canberra, and Washington, about the threats posed by a rising and more assertive China.
These latest developments signal a new era of cold-war style competition amongst Asia's two neighbors and political adversaries – the largest free democracy and the largest communist nation.
In a nutshell, China's rise and its activities in the recent past is viewed by many with suspicion and has aroused a perception of threat in many Asian nations. And while this may be unsettling, the rise of China also reflects a narrative of reconciliation based on Asian economic integration.
Since Deng Xiaoping began the process of reform and opening up of China after 30 years of isolation in 1978, China has radically altered and strengthened its approach to its neighbors in the region. China used its Asian neighbors in those days as a kind of hedge against the isolation imposed by the west, and as a bridge to rebuild relations with the west. The neighbors in turn exploited economic opportunities in China opened by the absent westerners post the sanctions caused by the Tiananmen Square Massacre. As a result of this relationship, the major economies of Asia enjoyed a spectacular growth in their trading partnership with China.
Today, China is the largest trading partner of practically every nation in Asia from India to Japan. China's manufacturing sector has become heavily dependent on the import of raw materials from the economies of Asia in order to feed its factories and its export-producing machine. As a result, China's continued growth and prosperity is seen as essential to Asia's own economic success. It means that the Asian economies sink or swim together so much so that a new adage has developed which says, if China sneezes, the Asian economy catches a cold.
China also began to build or join institutions of mutual cooperation with these countries to strengthen economic partnerships. It established the Shanghai Cooperative Organisation (SCO) ostensibly to fight terrorism in central Asia, the Asian Infrastructure Investment Bank (AIIB) to support infrastructure in the Asia pacific and also joined the ASEAN +3. Last year, China launched the Belt and Road Initiative (BRI) the most ambitious project yet of the century to revive the ancient silk route, forging even more interactions between China and the rest of the world.
Therefore, China's Asian dominance is marked by a softer economic integration of nations. While on the flipside, it continues to don a belligerent military attitude – giving rise to an arms race in Asia borne out of insecurity.
But as Liu Jieyi, China's former top envoy to the United Nations, rightly said, no country can remain secure based on the insecurity of others. China should assuage the fears of its neighbors in Asia particularly India and Japan to fulfill its global ambitions. Only then could China fulfill its ambitions for a towering role in the Asian century and essentially in realising its dreams of making Chinese hegemony at the front and center of the Asian century.
*Jamphel Shonu is the Editor-in-Chief of Tibet.net. The views expressed in this piece are solely that of the author and do not reflect the views of Central Tibetan Administration