The Central Tibetan Administration launches its maiden 'CTA 5 under 35: The Five-Fifty Youth Ambassadors', designed to spotlight 5 young visionaries under the age of 35 from the recent Five-Fifty Youth Forum that demonstrates outstanding leadership and exemplify the commitment to the Tibetan cause.
In its first edition, the CTA 5 Under 35: The Five-Fifty Youth Ambassadors is a recognition of these young ambassadors' outstanding accomplishments in the fields of academia, youth leadership and community service. The honourees have been selected in an extensive vetting process, scaling their potential and contributions across various categories.
CTA 5 under 35 are youth ambassadors who are poised to lead and mentor emerging young visionaries in Tibetan diaspora on CTA's Five Fifty Vision, the Middle Way Policy and the Tibetan freedom struggle in general. 
Sikyong Dr. Lobsang Sangay announced the 'CTA 5 under 35' youth ambassadors through a live teleconference on Tuesday.
The five dynamic youth ambassadors will represent the Five-Fifty Youth Forum and act as a bridge between CTA and the diaspora in educating them on the Central Tibetan Administration and the Tibet struggle.
They will soon take on a two-week exposure tour to Tibetan settlements, monasteries and major CTA functionaries across India. They will also liaise with the respective Offices of Tibet and represent CTA at various speaking forums for Tibetan youths.
Meet the CTA 5 Under 35
Lharong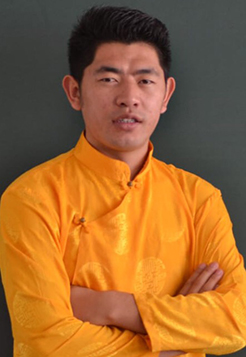 Lharong is currently pursuing his master's in law (L.L.M.) in Dehradun, India.
He was only eight years old when he escaped to India and received educational opportunities for the first time.
He completed his schooling from Tibetan Homes Foundation schools in Mussoorie and Rajpur. He was honoured by Central Tibetan Administration with the Gaden Phodrang Student Merit Award for topping the CBSE Class XII board exams. During his school days, he helped co-found an environmental club and organized Tibetan essay, caption and calligraphy contests.
He is the founding member as well as the first president of the governing body of the All India Tibetan Student Association (AITSAM). With other Tibetan youth leaders, he successfully organized a mega Tibet Day exhibition at the Mysore University, which was visited by thousands of both domestic and international students, including those from China.
He was also elected as the general secretary of the international student's forum, which showcased Tibetan history and culture through exhibitions. He represented Tibet at conferences organized by various foreign student's associations of Mysore and gave presentations on the issue of Tibet.
He initiated Amay Norbu Book Club in order to encourage his fellow college students to read and enrich their knowledge.
He has also hosted various fundraising events for social services and served as a member of Youth for Democracy, which organized debates of Tibetan MP's at Mundgod, Kollegal, Hunsur and Bylakuppee during the Tibetan general elections. In 2016, along with serving as a member of the Tibetan Language Service Centre, he was also a founding member as well as the vice-president of the Regional Tibetan Legal Association, Mysore, which organized the first-ever legal panel discussion on challenges faced by Tibetan youth, at the Dalai Lama Institute for Higher Education followed by the first-ever international students cultural exchange program at the Tibetan settlements in Bylakuppe and Hunsur.
***********
Tenzin Nordon
Tenzin Nordon grew up in the Minnesota Tibetan community
In college, she served on the Team Tibet board for three years, the Asian Students in America board for one year and as an Intercultural Peer Leader for one year. In 2008, she helped cofound Lamton, a tutoring and mentoring program for the Tibetan high school students by Tibetan students from Carleton and St. Olaf colleges. The program later expanded its services to middle school students, and Nordon served on its leadership board for nine years since its inception. She has served in various capacities within the board including its Advisor and Mentor-mentee Liaison. In 2009, Nordon taught the English language at Tibetan Children's Village for one month during her summer break from college. 
Nordon is also a co-founder of Youth for Umaylam (Y4U), an organization that raises awareness and support for the Middle Way Approach through education, political advocacy, community engagement, youth empowerment, and peaceful conflict resolution. She served on its board for four years since its inception in 2015 and had served in various capacities such as President, Vice-president, and Chinese Liaison. Through the organization, she also helped organize the first international Middle Way Approach conference in 2018. In 2016, she participated in the Tibetan Youth Leadership Program (TYLP) held by the International Campaign for Tibet. Through TYLP and Y4U, she participated in Tibet-related lobbying efforts three times. Nordon has helped organize dialogues between His Holiness the Dalai Lama and international Chinese students studying at Minnesota colleges. Through Y4U, she helped organize smaller dialogues with international Chinese students. 
Nordon is currently working on her master's degree in organizational leadership at St. Catherine University. She obtained her undergraduate degree in Biology from Carleton College. She studied the Chinese language in China for over five months.
***********
Gonpo Tashi
Gonpo Tashi is currently studying law at Victoria Law School, Australia. He was born in Tibet but grew up in India. His family was forced to escape into exile in India following the 2008 popular uprising in Tibet.
He is driven by a keen interest in learning new things and always passionate about working with different people. He completed his high school in 2012 from Tibetan Homes School, Mussoorie. When he graduated, he was conferred the Gaden Phodrang Student Merit Award.
While pursuing his Bachelor of Arts in Political Science from Delhi University, he was elected as a vice-president of the Department. He also actively participated in the Tibetan freedom movement, ranging from protest demonstrations to Tibet-related conferences. He was also an active member of the Student General Improvement Group (SGIG) India, which involved working with young Tibetan children.
He is currently serving as the vice-president of the association of Tibetan community in Victoria, Australia, which looks after the welfare of its community members and organize a whole host of Tibet-related events, ranging from political rallies to cultural festivals. In addition, he has been working as a Tibetan interpreter for the 'On-Call Interpreters and Translators', which offers translation services in more than 200 languages. He also took part in Australia Tibet Council's campaign themed on Australia's silence on Tibet and China's growing influence in Australia.
Further, he is also actively involved in other community services such as volunteering for Flemington and Kensington community legal center, which provides a wide array of legal services to clients from different backgrounds. He is currently also a member of the Victoria Law Student organization.
***********
Tenzin Norzin
Tenzin Norzin is a first-year Masters of Public Health (Epidemiology) student at the University of Toronto, Canada. She holds a Bachelor's of Science (Hons.) degree in Biomedical Sciences from Ryerson University.
As a member of Students for a Free Tibet (SFT) Ryerson, Tenzin has served in various capacities such as VP Events, VP Executive and the president. Tenzin helped plan and execute a weeklong Tibet Week event at Ryerson, designed to foster inter-cultural exchange and increase knowledge and understanding of Tibetan culture. She spearheaded "The First Generation Canadian Tibetan Experience" – a professional networking event featuring Tibetan mentors/speakers from various fields and undergraduate students.
Tenzin worked as a Health Data Analyst through Tibet Corps and completed volunteer placements at CTA's Health Department and Bylakupee Tso Jhe Khangsar Hospital. She provided technical assistance in epidemiological data analysis by producing disease prevalence and summary reports for over 5000 patients of CTA health clinics across India. Tenzin participated in hypertension and diabetes study data collection and analysis. She created educational materials and raised awareness about mental health issues to newly arrived refugees from Tibet.
Tenzin also worked as an intern for the Ontario Legislative Assembly of Canada through the Parliamentary Friends of Tibet program. She helped organize and execute the 7th Annual Tibet Day event at the legislative assembly. Currently, in her role as a researcher/curator for the Toronto Ward Museum, Tenzin is working to highlight Tibetan Canadian immigrant stories and ensuring Tibetan representation in an oral history project
Professionally, Tenzin has received numerous academic, research and leadership awards. She has been previously published in peer-reviewed journals for her contributions in Plasma Peptides and Ovarian Cancer biomarker research. She is also a recipient of the 2019 Dalai Lama Foundation Graduate Scholarship.
***********
Lhaning Kalsang Dorjee
Lhaning Kalsang Dorjee was born and raised in Switzerland—one of the first countries in the West that allowed Tibetan refugees to settle in large numbers. That's how his parents came to Switzerland. He joined the Tibetan Youth Association in Europe at the age of sixteen and took over the section leadership the following year.
At 18, after completing the basic Swiss military training, he decided to join the officer's career as Switzerland has done so much for the Tibetan people, he wanted to make his own contribution to that country. For this, one has to be intellectually as well as physically fit, able to communicate in difficult and dangerous situations and to lead others; and combine criticism with loyalty. Currently, he holds the rank of a first lieutenant.
He is also on the board of the Himalaya sports club which is based in the canton of Glarus. The integration of Tibetan refugees is a challenge for society as a whole and can only succeed through personal encounters and integration into social structures. He believes Football offers many opportunities for this not only through its sporting competition but also in everyday club life: It brings people together!
Currently, he is leading a Private Banking Team at LGT Bank, which is owned by the princely family of Liechtenstein. He is responsible for managing ultra-high net worth clients by advising them in making decisions about banking, lending, trusts, insurance, and investments. Prior to joining LGT Private Bank in 2019, he worked in the private banking team at Bank Julius Baer & Co. Ltd. and Zurich Cantonal Bank. He has graduated from the University of Applied Sciences of Zurich with a B.Sc. (Hons) degree in Banking and Finance.