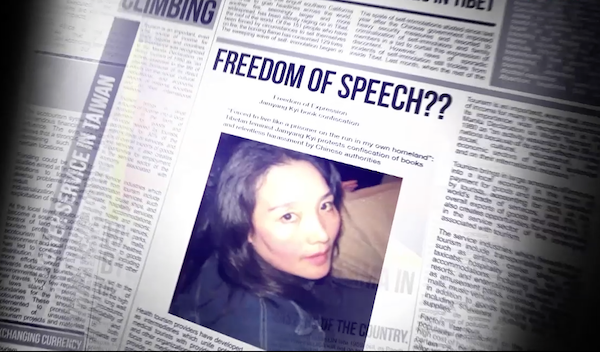 On the eve of 59th Tibetan national uprising day, the United Nations and Human Rights Desk of Department of Information and International Relations (DIIR), Central Tibetan Administration's (CTA) is releasing a 6-minute long video titled "Five Pressing Human Rights Violations in Tibet." The video reviews the pressing human rights violations in Tibet in the year 2017.
The video highlights the self-immolations in Tibet, arbitrary arrest, detention, torture and sentencing of Tibetans, crackdown on advocacy of Tibetan language, religious repression and scuffling freedom of expression.
The segment on self-immolations profiles the 151 Tibetans who have self-immolated since 2009 and until 2017 and amplifies the aspirations of the Tibetan self-immolators-freedom or Tibetans and the return of His Holiness the Dalai Lama to Tibet.
The segment on "Restrictions on Tibetan language" addresses the cases of detaining Tashi Wangchuk for advocating for Tibetan language rights, discriminatory prison practices of forcing Tibetans to use Mandarin over Tibetan and finally Tibetans in Chengdu being denied the right to learn the Tibetan language.
The segment on "Arbitrary Arrest, Detention, Torture & Sentence" includes the names of Tibetan who have been sentenced, arrested, detained, tortured, many resulting in critical health conditions.
The segment on "Violation of Religious Freedom" refers to the demolition of Larung Gar and Yachen Gar, focusing on the conditions of evicted monks and nuns where three nuns have committed suicide, leaving behind heartfelt letters. Also reviews the presence of soldiers during the Chotrul Monlam, disturbing the annual prayer festival. Lastly, highlights the recent confiscation of passport of Tibetans going to Kalachakra, restricting them from participating in a religious pilgrimage.
The segment on on "Scuffling Freedom of Expression" highlights the confiscation of books written by Tibetan authors such as Jamyang Kyi and the international community raising concerns over Tashi Wanghcuk and the 11th Panchen Lama, Gedhun Choekyi Nyima.
This video makes a comprehensive review of the critical human rights situation in Tibet and projects China's blatant disregard for the international community's call to ameliorate the human rights situation in Tibet.
Report filed by UN, EU and HR desk, DIIR –