South China Morning Post, 1 February 2018 Read original story here
President Xi Jinping called on China and Britain to show respect for each other's "core interests" after Beijing failed to get a formal endorsement of its belt and road trade strategy from visiting British Prime Minister Theresa May.
In talks with May on Thursday, Xi also said China and the UK should step up exchanges in areas from military to economic ties, but that the two nations must improve mutual understanding.
"[China and Britain] should respect each other's core interests and major concerns, and properly handle sensitive issues in a constructive way," Xi was quoted as saying by state-run broadcaster CCTV, without elaborating.
Xi told May that the "Belt and Road Initiative" would be transparent and open, and implemented in accordance with international rules. The initiative has been touted by Beijing as a modern-day Silk Road aiming to boost trade and infrastructure links with nations from Asia to Africa and Europe.
May had told reporters before she arrived for the three-day visit that she would raise concerns with the Chinese leadership over erosion in Hong Kong of the "one country, two systems" principle, but it was not immediately known if she had broached the politically sensitive issue with Xi.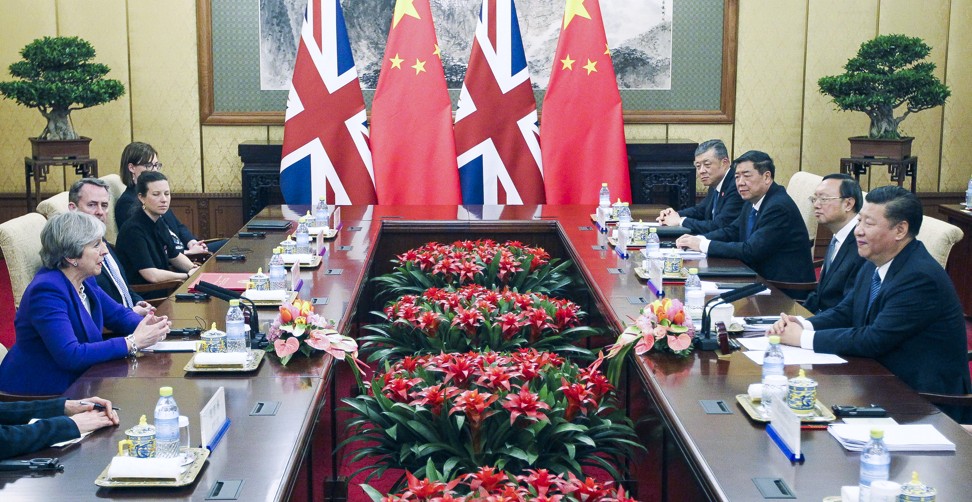 The two nations meanwhile signed a series of deals worth £9 billion (US$12.68 billion) during May's trip. They include an agreement between Standard Chartered and China Development Bank for a 10 billion yuan (US$1.58 billion) fund for projects in countries covered by the belt and road plan.
But the UK prime minister did not sign a memorandum of understanding giving Britain's official endorsement to the initiative.
Following talks with Premier Li Keqiang on Wednesday, May told reporters that she hoped Britain and China could work together on the initiative to ensure it met international standards.
Governments from Asia, Africa and Eastern Europe have signed memorandums of understanding on the belt and road plan as China seeks to strengthen economic ties and expand its influence globally, but none from the West have officially endorsed it so far.
Observers said what Beijing wanted most from May's visit was for Britain to become the first of the Western countries to get on board the project, as it did when it became a founder member of the Beijing-led Asian Infrastructure Investment Bank (AIIB) in 2015.
Cui Hongjian, head of European studies at the China Institute of International Studies, said May's emphasis on the belt and road plan meeting "international standards" echoed other Western leaders' wariness towards the initiative.
"This won't significantly affect the belt and road plan itself too much, nor will it affect Sino-UK relations," Cui said. "But it could be a missed opportunity to ramp up bilateral ties."
Shen Jiru, a researcher at the Chinese Academy of Social Sciences, noted that Britain needed to develop closer ties with China, especially after Brexit.
"Otherwise, when it has left the European Union, the UK will become marginalised – not only in Europe but also in the world," Shen said.
But he said expecting May to formally support the belt and road strategy was unrealistic.
"As a permanent member of the UN Security Council and a global superpower for centuries, Britain has a tradition of maintaining balanced international relationships – and that means it won't get too close to China," Shen said.
Cui agreed it was not surprising that May did not sign the memorandum of understanding, given that she is struggling with domestic political challenges and difficulties in Brexit negotiations as well as pressure from traditional ally the United States.
"She has neither the courage nor the resources to take this major step forward, like [former UK prime minister David] Cameron did with the AIIB," Cui said.
During May's visit, the two sides also agreed to work together on the Xiongan project, a huge hi-tech special economic zone about 100km south of Beijing, as well as an innovation park in Qingdao, Shandong province, the Ministry of Commerce said.