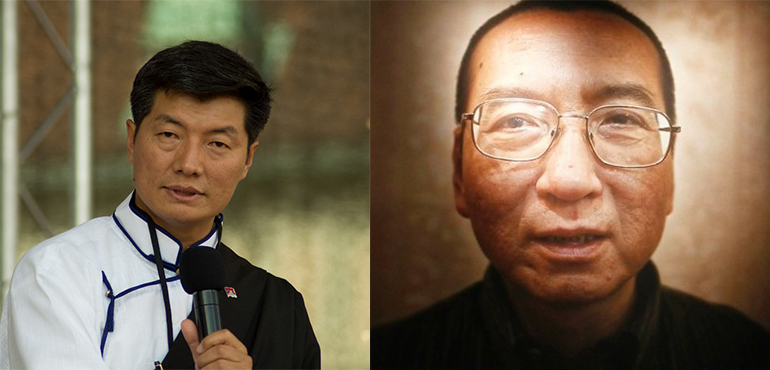 The President of Central Tibetan Administration, Dr. Lobsang Sangay offered condolence over the demise of Chinese Nobel laureate Liu Xiaobo (61) post his battle against late-stage liver cancer.
"My heart breaks to hear of Liu Xiaobo's passing. I have been following the reports very closely. I on behalf of Tibetans inside and outside Tibet offer my condolence and wish his wife Liu Xia much strength and resolve in these difficult times." said President Dr Sangay.
President Dr Sangay had earlier today renewed his calls for Liu Xiaobo to be allowed to travel abroad for treatment.
"The Chinese Government cannot allow Liu Xiaobo to die. They should allow him the opportunity to travel abroad for medical treatment on humanitarian grounds. Liu Xiaobo's condition is reported to be worsening rapidly. If he dies without receiving proper medical treatment, the Chinese Government should be held responsible for his death," he said earlier today before news of Liu's death came to light.
CTA President had on July 1 this year issued a statement calling for medical treatment abroad for Liu." Dr Sangay expressed his sadness at reports of Liu Xiaobo being diagnosed with late-stage liver cancer and his subsequent medical parole. He has urged the Chinese leadership to grant Liu Xiaobo and his family immediate permission to travel abroad for medical treatment.
"On a positive note, I am inspired by the growing number of true democrats like Liu Xiaobo in China. The tide of democracy is gradually touching the shores of China and I am optimistic that Liu Xiaobo's vision of a truly democratic China will be realised soon in the near future," President Sangay expressed.
A statement issued by Bureau of Justice, Shenyang City this evening confirmed the death of Liu Xiaobo in hospital.
A rough translation of the statement issued in Chinese is below:
Liu Xiaobo died
(2017-07-13)
Liu Xiaobo, male, 61 years old, on December 23, 2009 due to inciting subversion of state power, Beijing's First Intermediate People's Court sentenced him to 11 years and was deprived of political rights for 2 years. During the sentence, due to suffering from liver cancer, he was released from prison for treatment. First Affiliated Hospital of China Medical University invited well-known domestic cancer experts to diagnose several times, and invited doctors from the United States, Germany to participate in consultation. After repeated treatment, Liu Xiaobo's disease continued to deteriorate. On July 10 he was put into the rescue and intensive care status. One July 13, he died due to multiple organ failure.
Issued by Bureau of Justice, Shenyang City