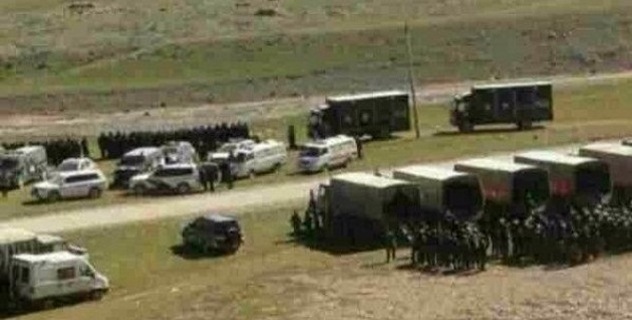 DHARAMSHALA: Several Tibetans were injured and one reportedly committed suicide, after Chinese security forces used tear gas and rampant beating to disperse Tibetans protesting against diamond mining in eastern Tibet's Yushul region (incorporated into China's Qinghai province) on Friday, media reports say.
The crackdown followed a tense confrontation between Tibetan protesters and Chinese miner workers at three sites having diamond reserves in Zatoe in Yushul region since this Tuesday.
Several military convoys arrived at the sites, Radio Free Asia quoted a source in the region as saying.
About 500 armed police stormed mining sites in Atod Yultso and Zachen Yultso and fired teargas to disperse the Tibetan protestors. They also threatened Tibetans with dire consequences.
Several Tibetans were wounded in the crackdown, while at least eight Tibetans were detained and 15 others taken to hospital.
A Tibetan man named Sogpo Choedrup was grievously injured after he tried to kill himself with knife cuts and was taken away by police, RFA quoted a source as saying. Another source said the man had killed himself. 
The security forces are planning to crack down on those sitting in protest at Chidza site today.
The local Tibetans complained that the mining activities trigger environmental problems and are carried out without sanctions from the central government.
China's large-scale exploitation of mineral resources in Tibet has led to sustained socio-economic and environmental problems. Massive influx of Chinese migrant workers into Tibetan areas deprives Tibetans of employment opportunities.
The Central Tibetan Administration in Dharamsala has repeatedly called on China to ensure active participation of Tibetan people in all decision making process and that social, environmental and cultural impacts assessment are carried out.
(Massive Exploitation of Mineral Resources Caused Mining Disaster in Tibet: CTA report)