NEW YORK: Kalon Ngodup Dongchung of the Department of Security, who is currently on a visit to East coast of the United States, meet with members of the Tibetan community in New York on Wednesday, celebrated as Lhakar day.
Despite working day, around 200 Tibetan showed up for the informal interaction with Kalon. The president of the Tibetan community, Kunga Thinley, with the board members, accorded traditional welcome to the Kalon.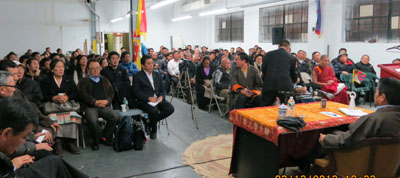 Kalon Ngodup Dongchung briefed the Tibetans on a wide range of issues, including the prevailing tragic situation in Tibet, significance of Tibetan people's commitment to non-violence, and the Middle-Way policy of the Central Tibetan Administration towards resolving the issue of Tibet.
He clarified many issues born out of miscommunication among the Tibetan public, and encouraged free and frank discussion to stem such problems from arising and also to strengthen the sustainability of the Tibetan struggle.
He strongly encouraged the youth to learn and preserve Tibetan language, culture and Buddhism.
Tibetans asked the Kalon questions on different issues such as security of His Holiness the Dalai Lama, importance of observing Lhakar on Wednesday, future of Tibetan struggle, and the green book contribution. The response from the Kalon was received with applause.
Kalon Ngodup Dongchung, who has just concluded visits to the Tibetan communities in Minnesota, Washington DC, and Boston, was scheduled to conclude his visit in Connecticut on 14 March.