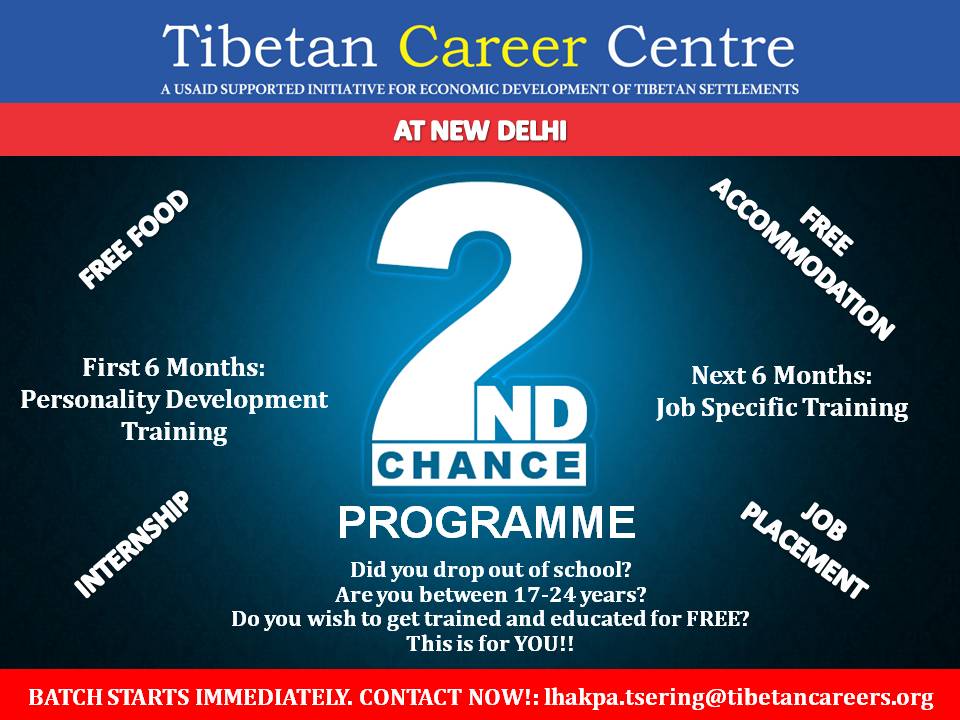 DHARAMSHALA: The Tibetan Career Centre in Delhi said it is planning to organise a year-long personality development and job specific trainings for Tibetan youths.
 
"The Second Chance programme helps to instill self- esteem and confidence in the youth. It provides age appropriate education and vocational skills to enable the youth to become constructive members of the society," Lhakpa Tsering, Career Consultant and Senior Programme Manager of TCC, told Tibet.Net.
 
He said the participants would be trained in communication, personality development, learning, numeracy and information technology in the first six months. In the next six months, they would be given job specific training in bakery and confectioneries, computer applications, cooking, banking and fashion designing, he added.
 
Internship and job placement support would be provided at the end of the one year programme, he said adding, the trainees would be placed in business outlets like the Trident, Gurgaon; Genesis Color, Satya Paul; The Sheraton New Delhi; Max New York Life; LYNX Overseas, Gurgaon.
 
The training programme would start as soon as we get the minimum of 10 people, he said.  Interested people can contact him directly at lhakpa.tsering@tibetancareers.org / +91-9999-598-296.
The Tibetan Career Centre is a USAID supported initiative for economic development of Tibetan settlements and supervised by the Department of Home of the Central Tibetan Administration. In addition to Delhi, Tibetan Career Centres are also located at Dharamsala, Bangalore, Mundgod, Phuntsokling (Odhisa), Dekyiling (Uttarakhand), Bylakuppee (Karnataka) and Pokhara (Nepal).