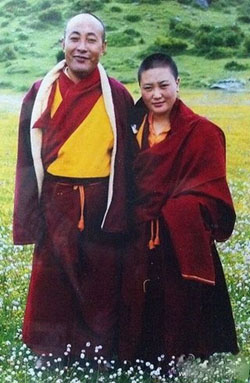 DHARAMSHALA: Confirmed reports coming out of Tibet say Tulku Athup alias Thubten Nyandak Rinpoche, 47, and his niece, Atse, 25, self-immolated at the former's residence in Dzogchen monastery in Kham in eastern Tibet (incorporated into China's Sichuan Province) on 6 April last year.
Few days before the immolation, Tulku Athup said he would light many butter lamps for all those who have self-immolated for the cause of Tibet. He also asked his students to engage in meritorious activities like saving of animal lives.
On the day of his immolation, he told his family on phone: "Today I feel at ease and ending my life by offering butter lamps for all those Tibetans who have set themselves on fire for the cause of Tibet". Immediately after making the call, he and his niece set themselves on fire.
Chinese police from Dartsedo immediately arrived at Dzogchen monastery. Fearing closure of the monastery, the monastery officials told the police that Tulku Athup and his niece died due to accidental fire in the house rather than self-immolation. Chinese police then withdrew from the monastery. Since then the authorities have imposed severe restrictions across the region and cracked down on local Tibetans leaving many of them severely injured.
Tulku Athup joined Lhakang Dragkhar monastery in Minyak, Kham at a young age and later studied at Drepung monastery in Lhasa and Kirti monastery in Ngaba.
Since 2009, 113 Tibetans have set themselves on fire in Tibet calling for the return of His Holiness the Dalai Lama and freedom for Tibetans. 95 of them have died. (View fact sheet)
(Note: This report posted on 27 March 2013 went temporarily off-line due to maintenance of the server.)