July 13, 2012 10:04 am
From left to right : MEP Csaba Sogor, Mrs Kelam, Kalon Dongchung Ngodup, MEP Thomas Mann, Representative Ngodup Dorjee and MEP Tunne Kelam in Brussels/Photo/Bureau du Tibet
BRUSSELS : On a warm sunny evening, bureau du Tibet, Brussels, held its reception at the Albert Hall Complex, a flagship event venue just a stone throw from the European Headquarters to celebrate the 77th birthday of His Holiness the 14th Dalai Lama. The first birthday since the conferring of the prestigious 2012 Templeton Prize and a year since His Holiness devolved his political authority to the elected leadership of the Central Tibetan Administration.
The reception was attended by diplomats, Members of the European Parliament, Members of the Belgian Parliament, parliamentary assistants, officials of the Belgium government, officials of the EU institutions, representatives of the Tibetan Buddhist centers, Tibetan communities, Tibet Support Groups, various other NGOs, scholars and journalists.
The The programme for the evening began with recitation of prayers for the long life of His Holiness the Dalai Lama led by venerable Thupten Wangchen, venerable Lama Karta and other venerable monks of Nalanda Institute, a Brussels-based Tibetan Buddhist center.
Mr Dongchung Ngodup, kalon for the Department of Security of the Central Tibetan Administration and venerable Thupten Wangchen, member of the Tibetan Parliament in Exile representing the diaspora in Europe, graced the event with their presence.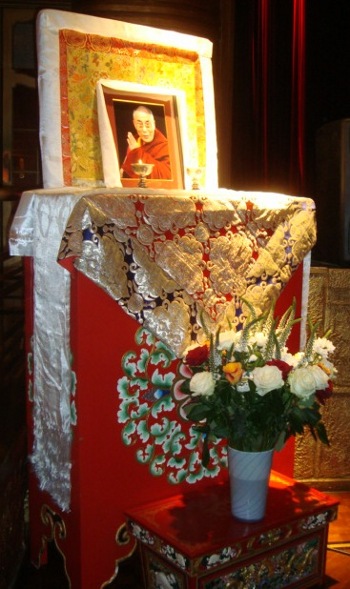 While wishing long life to His Holiness the Dalai Lama, the Nobel Peace Prize winner, a man of conciliation and reconciliation, MEP Thomas Mann, President of the all-party Tibet Intergroup in the European Parliament said, His Holiness' fight for the right of his people has always been very impressive. The European Parliament, the voice of democracy and freedom, has repeatedly supported the Tibetan issue on various facets and will continue to do so."
Mr Ngodup Dorjee, the Representative of His Holiness the Dalai Lama to Western Europe, in his address, welcomed and extended his hearty greetings to all the guests on the occasion of the 77th birthday celebration of His Holiness the 14th Dalai Lama. He also welcomed kalon Dongchung Ngodup to the special gathering. He then spoke briefly on His Holiness the Dalai Lama, his invaluable guidance to the Tibetan people and his contribution to the world at large.
Kalon Dongchung Ngodup extended greetings from Dharamsala and thanked the guests for their presence in celebrating the 77th birthday of His Holiness the Dalai Lama. He also thanked the EU for its continued support to the just cause of Tibet and hoped that it shall continue until the Tibetan issue is resolved peacefully.
The speeches were followed by traditional and modern songs performed by Mr Norbu Tsering, a young talented Belgium-based Tibetan artist and his group. The performance was greatly appreciated by the guests.
Earlier that day, kalon Dongchung Ngodup and Representative Ngodup Dorjee were invited as special guests to the 93rd Tibet Intergroup meeting in the European Parliament.
On Thursday, 12 July, kalon Dongchung Ngodup accompanied by Representative Ngodup Dorjee left Brussels for Barcelona on the last leg of his four nation European tour.
Report filed by Bureau du Tibet, Brussels.