April 12, 2012 6:24 pm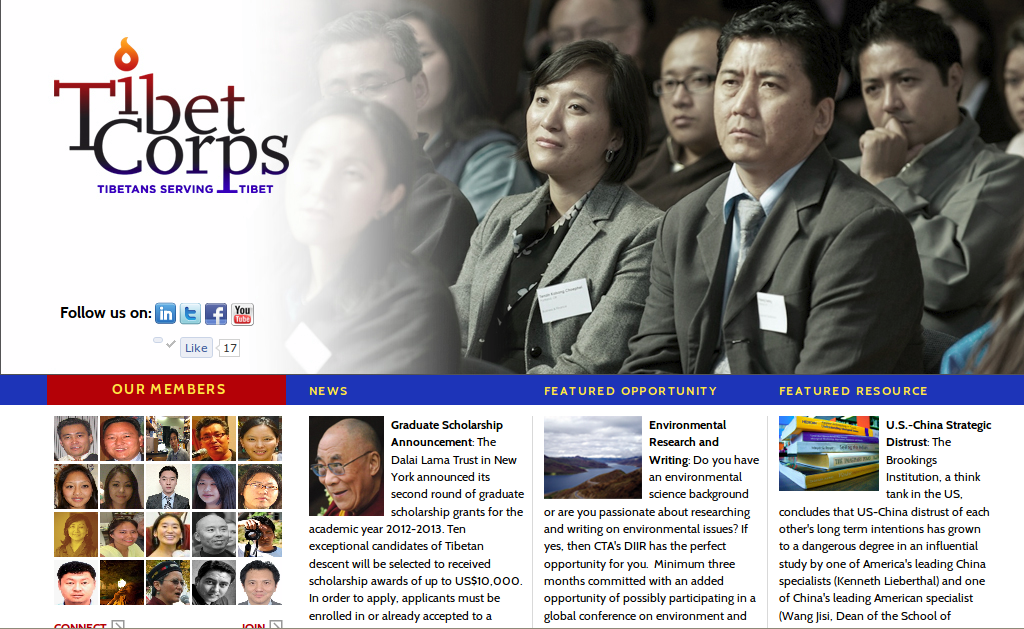 DHARAMSHALA: The Central Tibetan Administration today launched 'Tibet Corps' to provide opportunities to Tibetan professionals and university students to serve their community through voluntary service programme.   
 
Launching the programme at the Kashag Secretariat, Tibet Corps Director Kaydor Aukatsang said: "Tibet Corps offers talented civic-minded Tibetan professionals and university students an opportunity and platform to serve their community through a voluntary service program initially involving the Central Tibetan Administration and eventually selected Tibetan NGOs (TiNGOs)."  
 
He said the overall goal is to mobilise professionals in the exiled Tibetan community as a skilled voluntary workforce and create a knowledge community that would support the development of a vibrant, resilient and stronger Tibetan movement, poised to serve Tibet and Tibetans for generations.
 
Speaking on the selection process, he said, "Dhang-shab-pas (renderers of service) would be drawn from a large and diverse pool of working and retired professionals and university students. They would be then assigned clearly defined and needed role as required by a CTA department or entity affiliated with it."
Interested candidates can apply for 21 posts in various categories like Agriculture (1), Animation and Graphic Design (2), Counselling (2), Education (3), Entrepreneurship (1), Environment (2), Human Rights (1) Media (1), Medical (3), Project Planning (2) and Miscellaneous (2). (Click here to apply).
Kashag Secretary Ven Karma Gelek Yuthok said Tibet Corps is in line with the present Kashag's three principles of unity, innovation and self-reliance. "Our unity would be strengthened if we pool our talent and professionalism in the movement," he said.
He called on all the departments and offices to provide best co-operation towards making the Tibet Corps initiative successful.
In his remarks, Mr Jamphel Choesang, Chairman of Public Service Commission, described Tibet Corps as a novel initiative which he said create for the first time an exclusive pool of talented Tibetan volunteers to serve in the Tibetan administration. He said the success of Tibet Corps would hinge on joint efforts and co-operation among the host institute and the volunteers.
Secretaries from all the departments attended the inauguration of Tibet Corps.
Tibet Corps, a public-private initiative of CTA, was launched with generous seed funding and ongoing support from the Isdell Foundation. The project will focus initially on servicing CTA and its various departments.  The second phase of the project will expand to include a small number of select TiNGOs.