February 10, 2012 2:34 pm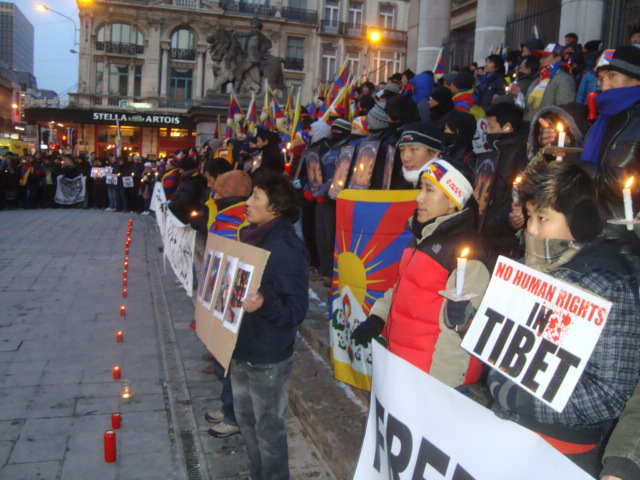 Brussels: Over 300 Tibetans, Tibet supporters from all walks of life gathered at the Place de la bourse or Brussels Stock Exchange braving the bitter cold with temperatures plunging as low as minus -4 degrees Celsius to demonstrate their support and solidarity with the Tibetans who self-immolated to protest the repressive policies of the Chinese government and those undergoing tremendous suffering inside Tibet. Among the participants were also European Parliamentary Assistants and members of the Non-violent Radical Party Transnational and Transparty.
People holding candles and photographs of the twenty Tibetans who self-immolated for the just cause of Tibet prayed while others got themselves busy distributing flyers informing the passers by about the vigil which was part of the gloabl solidarity action.
 
The vigil ended with the singing of the Tibetan National Anthem.
Similary in Spain, the Tibetan Community organized a candle light vigil in Barcelona and a peace march on the same day.  Around 200 Tibetans and Tibet supporters participated in the candle light vigil and the peace march which began from the Tibet House Foundation and ended in front of the Town Hall.  
 
In Amsterdam, around 100 Tibetans and Tibet Supporters including members of SP Party and representatives from Amnesty International participated in the candle light vigil and the peace march to express solidarity with our brethrens in Tibet. The Peace March took off from Dam Square in Amsterdam city center through Central station and back.